In this blog, we look at some frequently asked questions that I have answered very often during classes, workshops, and private tutoring. Do you also have doubts about something you have heard? Do you also have a question? Then put it in the comments under this blog and maybe we will pick your question out in a new blog!
Rewarding your dog with cheese or other 'people food', I don't know… won't my dog ​​give a shit?
Shoveling teaches your dog because it pays off to clean. Attention, or getting something tasty off the table. Of course, your dog can try to throw his best impersonation of starving soul pet into play. But if that doesn't work, the begging should be over soon.
So what you use as a reward has little to do with it. Fortunately, because liverwurst and goat cheese often work very well as a reward for dogs that are pickier.
back to menu ↑
If you throw a treat on the floor, won't your dog learn to eat everything off the street?
Your reward (if it is right) always comes after a reward signal and your dog clearly sees that you throw it. This is therefore quite different from the 'litter' that lies along the cycle path. So you can perfectly teach your dog the difference between 'catch' rewards that you roll on the ground and the piece of bread that is on the verge.
back to menu ↑
Can you also play with your dog if he comes to challenge you with a toy?
It is often said; you start and end the game, otherwise, your dog will decide when you do something or not. Well… if you decide to play with your dog when he asks, it's still your choice. So yes, you can. If you want that at that moment.
back to menu ↑
Do dogs become aggressive from a tug of war?
Luckily not! A tug of war is absolutely not a cause of aggression. But… a dog that shows aggression towards you as a 'playmate', you have to be careful with that and maybe it's better to play a completely different game.
And some dogs can really enjoy a tug game with you, while a tug game with another dog turns into war.
back to menu ↑
Is it true that once a dog has tasted blood, you should put him to sleep?
It is of course not nice if your dog has caught a rabbit or sheep. Or a deer in the woods. Of course, you don't want that. But this doesn't make your dog a killer or a villain.
He's just a dog, with a hunting instinct. And you really don't have to put your dog to sleep.
And no, a dog that hunts rabbits never has to show any aggression towards children, those are 2 completely different things. What you should of course do is make sure that your dog no longer gets the chance to go hunting.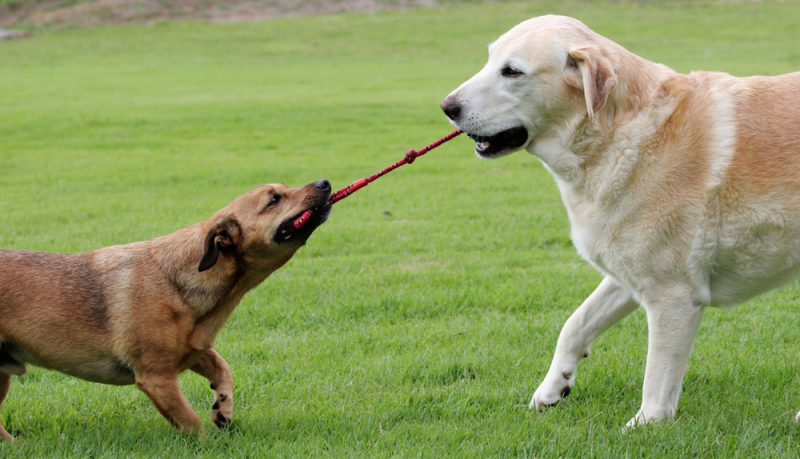 back to menu ↑
Is it true that your dog is not allowed to walk in front of you?
It just depends on what you find useful in that specific situation. No, your dog doesn't think he's in charge of you when he walks in front of you. That doesn't make your dog disobedient, "dominant," or poorly behaved. When a group of dogs walks together, they also criss-cross each other and they also have no fixed order.
Dogs like to run at the front because they usually run faster than humans by nature. So there is nothing wrong with letting your dog walk in front of you.
back to menu ↑
I've heard that all normal dogs are nice to puppies and children…is that true?
Numerous puppies and a lot of children have been bitten because people thought their dogs would never do anything because normal dogs would be nice to children and puppies.
Unfortunately… just as not every adult loves children, not all adult dogs love puppies. Or on children. There is often also a difference between your own puppies and the puppies of other dogs. The best mother dog may as well be aggressive towards other dog's puppies. This says nothing about 'normal'.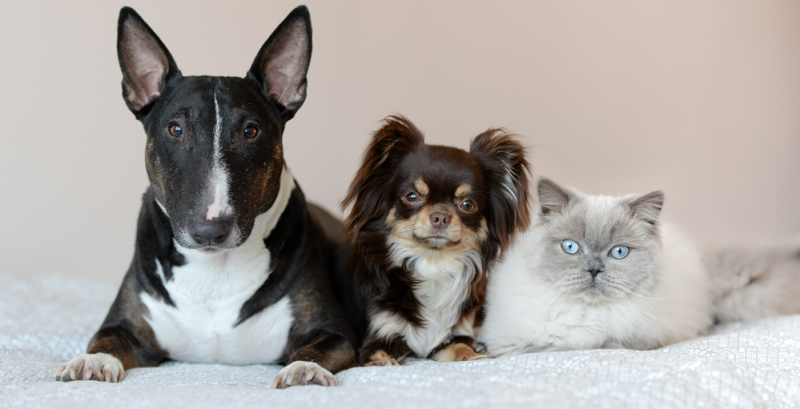 back to menu ↑
Will my dog ​​learn to pull on a leash if I put a harness on him?
New. Your dog learns to pull on the leash because pulling on the leash gives him something. He can move, he gets from A to B, he gets to the interesting scent, to the other dog, to the nice neighbor… so if you make sure that your dog doesn't have success with pulling, he won't pull with either. put on a gear. You can train your dog to walk properly on a harness.
back to menu ↑
Can I already go outside with my puppy, because he still has to get a vaccination?
Some breeders don't let their puppies go outside until they leave for their new homes. The new owners are advised to stay indoors as much as possible and to go to a puppy course only after the third puppy vaccination. But is this wise?
Of course, you don't want your puppy to contract any illness… but you also don't want your puppy to miss these important weeks in his socialization. The most important socialization phase is in the first 12 weeks.
So it is really important that your puppy goes outside, both with the breeder and in the first weeks with you, and sees and experiences things. If you want to know about the protection, have your puppy titrated. Of course, you can avoid very dirty exhaust strips, but with a puppy course, you can already start.