Cycling with your dog… how do you actually do that? Is that nice for your dog, walking next to the bike? What should you pay attention to if you want to do that? Is that possible with any dog ​​and when can you start? In this blog, you can read everything about cycling with your dog. And maybe you'll go on the most beautiful bike rides with your best friend, that's really fun!
To the right!
Officially, a dog must always walk to the right of your bicycle. This has to do with passing traffic. (If you just cycle on a deserted country road, then it doesn't matter that much.) So it's very handy if your dog can already walk right next to you.
So if, for whatever reason, your dog has only learned to walk on the left, practice walking on the right first, without a bicycle. Also teach your dog that if he has to switch from one side to the other, he will always do so behind you. Soon, with cycling, you really don't want your dog in front of your front wheel…
back to menu ↑
The benefits of cycling with your dog
Cycling is (besides swimming) one of the better ways to give your dog enough exercise. Your dog can move in its most natural gait (the trot). Cycling is often straight-lined, your dog should, if all is well, not make weird buck jumps next to your bike.
Also Read: Czechoslovakian Wolfdog: Tips, Characteristics and Care
Your dog can therefore safely build up a good basic condition with cycling. Cycling with your dog can be less taxing for you as an owner than, for example, running. And, dogs that can't run loose, you can give them enough exercise this way!
back to menu ↑
Cycling with your dog – a checklist
Your dog runs at a trot next to your bike
Your dog can stop on command
Your dog masters turning next to your bike
The surface is even and safe
You regularly check the soles of your dog
It's not too hot
Your dog wears a good harness or a wide soft collar
Your dog is safely on a leash with or without a Springer
You adjust the distance and time to the condition of your dog
back to menu ↑
At what age can you start cycling?
You can start cycling as soon as your puppy is about 10 weeks old. No, don't run next to the bike! But get used to a bike. If your dog knows from a puppy that he has to walk next to the bicycle, has to stop when the bicycle stops, and can also take turns with your bicycle, it is much easier, later on, to really start cycling.
With really off-bike trotting, you can start in very small stretches (think 1-5 minutes at a leisurely trot) between 6 and 16 months, depending on the breed. And also build in small steps. You only start strength training when your dog is really an adult and only after a sports check with a professional.
back to menu ↑
Start learning
Put your bike in a place so that your dog can get to know it (and make sure that the bike cannot fall over!). Take your dog for a walk and if you can, ask someone to walk the bike with you.
Pay attention; Does your dog show behavior that could cause problems with cycling later on? Is he afraid of the bike, or is he trying to bite the wheels? Get started with that behavior right away! First with a stationary bicycle and then with a very slowly moving bicycle. Ask for exercises your dog can do; attention, target, sit, stand… and reward frequently.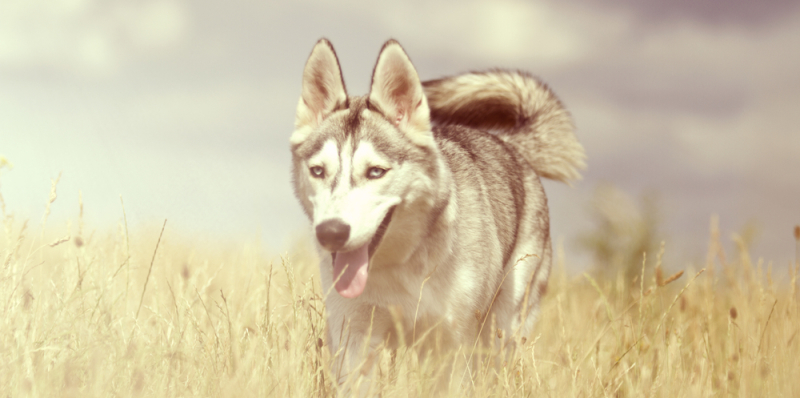 back to menu ↑
What is your target?
So you can simply work on your dog's basic fitness by walking next to the bike, but you can also do strength training by having your dog pull, or have your dog wear a vest with weights. Maybe you want to work on your dog's endurance fitness, or your goal is to get into bickering.
Your goal may also be to improve your dog's sprint condition. Or purely to cycle from home to your girlfriend while your dog goes with you. Cycling with your dog can therefore be used for different purposes!
back to menu ↑
Which belt do you use?
With cycling (as with walking) I am a fan of a harness. But sometimes you want some extra control in the beginning. Then you can consider attaching the Springer to the bike and attaching the harness to it and using a regular collar next to it with the leash at your hand.
Where I am in favor of a long line with walking, that is not convenient with cycling. A line with a piece of 'bungee rope' can be very nice to prevent unexpected tugs.
back to menu ↑
Where are you going to cycle?
Start in a quiet area with little traffic. A good starting place could be a large supermarket parking lot on a Sunday evening. Or a dead-end road in front of your house.
Start after your dog has just had a walk, then he is much calmer and does not have to pee or defecate. First a bit with your bike in hand, practice the stops and turns and if you have the idea that your dog is paying attention, get on it quietly and cycle a short distance, about 20 meters is enough. Reward, repeat.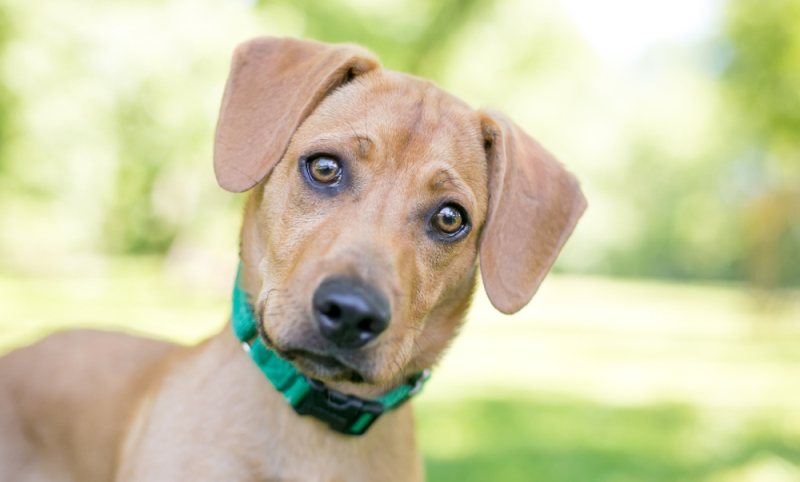 back to menu ↑
What surface can you cycle on?
The most important thing is that the surface is safe. There is often all kinds of junk on the verge next to the bicycle path, such as broken bottles or cans. You don't want to step into that! So, let your dog walk on the bike path too.
Sand is also a good substrate or very short grass. Thick soles are important on hard surfaces. In general, dogs with pink pads are more likely to have "wear and tear" than dogs with black pads. Check the soles of your feet after every cycling workout!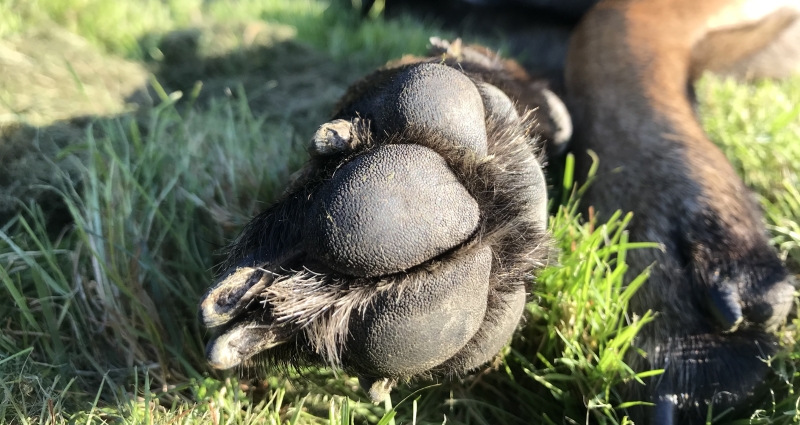 back to menu ↑
breaks
Do you cycle for more than fifteen minutes? Then take a break about every 10-15 minutes. Give your dog a small amount of fresh water and check the pads of his feet (another useful application of the 'pawing' exercise). Foot sole broken? Then walking home next to the bike.
How long you pause depends on the distance you have just covered and the condition of your dog. With a dog that is overweight, you should think about 5 minutes of cycling, 10 minutes of rest. With a fit dog, you can cycle for 15 minutes and rest for 5-10 minutes.
back to menu ↑
The Springer
A Springer is a special system that is attached to the frame of your bicycle, to which a coil spring is attached. This absorbs the blow when your dog pulls. Just like with a line with a piece of elastic or bungee cord attached.
You can further enhance this effect by placing a piece of elastic line between the Springer and your dog's harness. Using a Springer allows you to keep both hands on the handlebars. A Springer also has a safety system that allows your dog to break free if he walks past on the other side of a pole than where you pass by bike.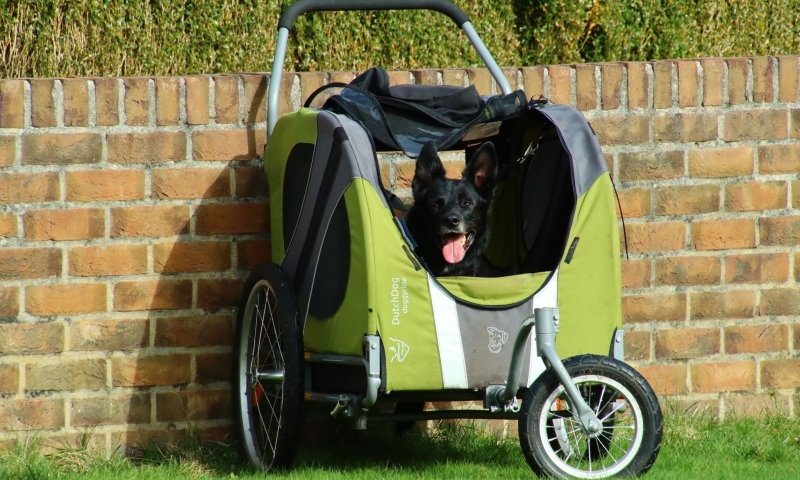 back to menu ↑
A bicycle trailer or a bicycle basket?
Of course, it is not for every dog ​​to walk nicely next to the bicycle. There are several reasons for this; age, a disability, or simply the size of your dog. Or maybe you want to go on a long bike ride and your dog can walk partly and partly he should rest anyway.
In these situations, a bicycle trailer or bicycle basket is a solution! Get your dog used to the bicycle trailer or bicycle basket at home. You basically follow the same steps as with bench training. And of course, you make sure that your dog wears a good harness with which he is securely fastened in the bicycle basket and also in the bicycle trailer when it is open.
back to menu ↑
When are you not going to cycle?
There are situations when cycling is not very wise. As with heat, but what exactly is too hot, also depends on your dog. For some dogs, 15 degrees and sunshine can be tough, while another dog with 22 degrees and sun can still walk with you on a bike. Watch your dog closely; a curled tongue or excessive panting means slowing down. Those are the signs that he's really starting to get too hot.
Of course you will not cycle with a dog that is lame, or has diarrhea or is otherwise unfit. Being overweight and cycling is also something you have to pay attention to. Then you prefer to cycle in very small pieces at a quiet trot and on a softer surface.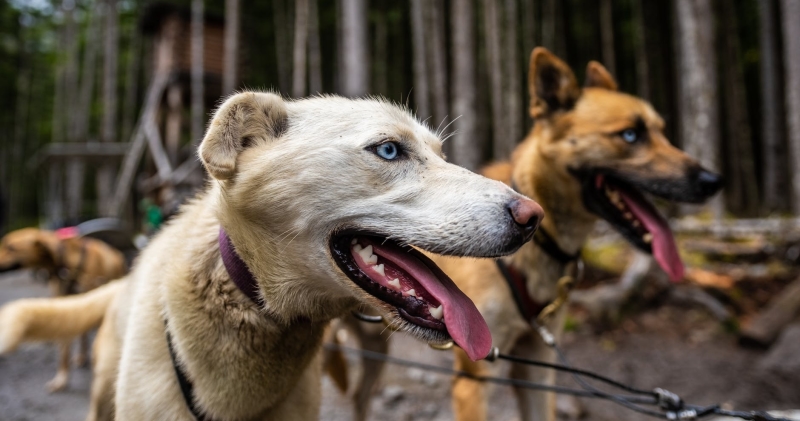 back to menu ↑
Bikejoring
Or mountain biking with your dog who is on a leash and allowed to pull. Your dog wears a special harness and is attached to your bike with a 2.5-meter long leash. A special holder ensures that your line cannot touch the wheels.
Bikejoring is a competitive sport, to participate in competitions, your dog must be at least 18 months old. With bickering, you can race at more than 30 km per hour, so this is definitely not a sport for everyone. Your dog must therefore really listen carefully.
In this sport, you go on paths with a soft surface. Also nice and sporty for you as a boss, because you have to pedal along yourself! Do you like it? In addition to all the necessities, RunDog also provides information on how to get started with this top sport!