Guide dogs are excellent companions for people with mobility problems or with different abilities. Learn more about these noble dogs in the next note.
Friendly, obedient but with initiative, trustworthy and self-assured, guide dogs they allow a life of independence, mobility and company for the visually impaired. We tell you more about these incredible furry men and the admirable work they do.
The origin of guide dogs
Let's review a bit of history. The existence of service dogs dates back towards the middle of the 16th century. However, the first attempt to train them to help the visually impaired came around 1780, at the "Les Quinze-Vingts" hospital for the blind in Paris. Despite that, it was only in the early 1900s when guide dog training institutions became more prevalent, developing as a branch of great relevance within canine training.
back to menu ↑
Can any breed be a guide dog?
Guide dogs are chosen for their temperament and trainability. While some breeds like Golden Retrievers, Labradors, and German Shepherds are preferred, it is not a requirement that they belong to these races. Dogs are chosen that have a good size range, that are healthy and have a friendly temperament but with initiative.
Are needed approximately 18 months to train a guide dog from birth.
Generally, they live with their specialized trainers or tutors up to one year of life under defined standards. This environment helps to socialize the puppy and learn basic training commands and rules.
The dog must then go through its formal guide dog training, which is carried out by professionals and lasts between 4 and 6 months.
At about 18 months, you meet who will be your new tutor and who you will have to attend and train together for a few weeks, before becoming partners for many years.
They are trained to show "intelligent disobedience", this means that they they will refuse to obey an order if they see a danger that their human may have missed Like a car that ran a red light. Their job is to be attentive to the environment and detect dangers and obstacles that the person cannot.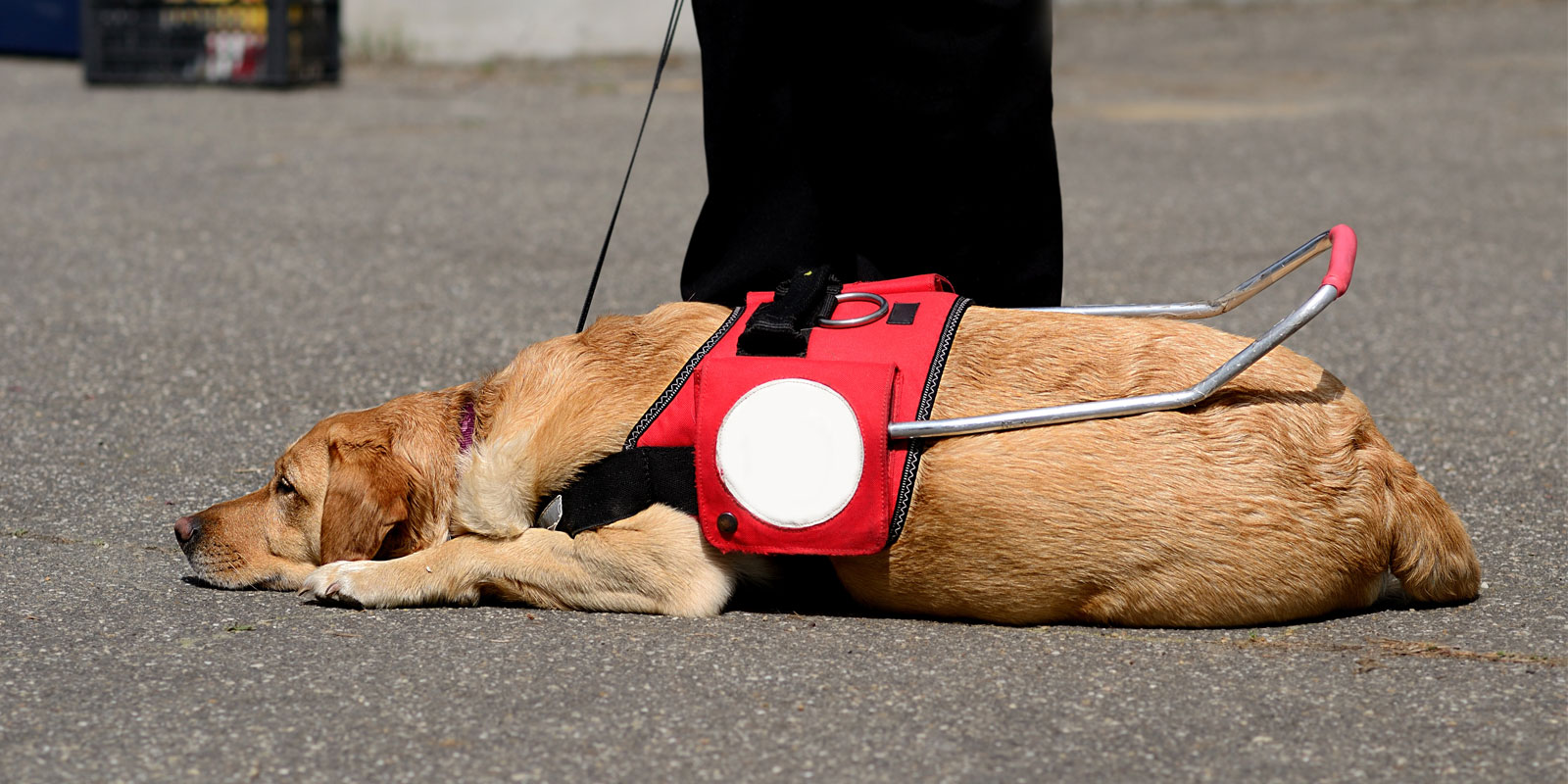 Although it is the person who must give the order to the guide, such as to indicate when to cross the street, it is the dog who decides whether or not it is safe to cross and the person must trust.
This level of trust and communication between human and dog is achieved thanks to a meticulous matchmaking program, in order to bring each person together with their canine soul mate. For this, each applicant is subjected to a personal interview and a selection process to find the four-legged companion that suits your physical needs and personality. Everything is analyzed: a person's lifestyle, hobbies, activity level, family, type of home and if they live with other pets.
back to menu ↑
You should never pet a guide dog
Guide dogs are working and when distracted it can be dangerous for the person attending. Guides are trained to ignore the distractions around them to focus solely on the needs of their guardians. Therefore, You should not pet, feed, whistle, or talk to a guide dog without first asking the owner.. Often times, dependence on a guide dog is the only thing that stands between the visually impaired person and serious injury or death.
As you can see, guide dogs are a delicate balance between a working animal and a loyal friend. Now that you know all this, the next time you see one at work, you can better appreciate their admirable work.
* This article was written by veterinarian Paula Molina.
If you want to receive information on important topics related to pets, their care and well-being, as well as curiosities and other interesting topics, don't wait any longer and register it in our Pet Fans community!
It may interest you
2 tricks for dogs: the game of the glass and the trick of balance
Teaching your pet to perform these tricks will help him develop skills that will be very useful to him. Also, they will have an incredible time.